The tropics stay warm all year round — usually between 77 and 82 degrees Fahrenheit. With this consistently hot weather, you must own an air conditioner that can beat back the heat.
This type of weather is nice if you're relaxing in the shade after a swim, but it's not ideal for daily living.
So what's a good type of air conditioning you can trust?
The Innovair Quantum Inverter Mini Split is one product we offer that can help cool down your home or business.
Whether you want to make your customers comfortable or just relax in your own home, this product comes with tons of features to make your building cool and your life easier.
In this guide, we'll cover everything you need to know about the Innovair Quantum Inverter Mini Split. But first, let's take a look at when you should replace your AC unit.
How Often Should You Replace Your Air Conditioning?
Some of you may be thinking, "but wait, the air conditioner I have is perfectly fine. Why do I need a new one?".
Well once it reaches a certain age or begins exhibiting signs of wear, you should consider replacing or repairing your AC unit. Energy Star recommends changing your air conditioning unit every ten years.
However, we believe you should do it sooner if your old product begins exhibiting signs of wear. If your unit isn't providing enough air or coolness, then it's likely broken.
Make sure you also check for more subtle signs like bad smells, leaks, and high energy bills. Check out our full list if you want to know whether or not it's time to replace your unit.
If you think you can repair it yourself, then the Air Conditioning Depot can likely replace the part you need.
General Overview of the Innovair Quantum Inverter Mini Split
The Innovair Quantum Inverter Mini Split is a two-part air conditioning unit that features an outdoor section and stylish indoor unit. The unit is certified by AHRI, ETL, and EnergyStar.
It's quiet and can connect to the wifi. The power circuit board on the Innovair Quantum Inverter Mini-Split can withstand voltage variation.
This feature makes it ideal for tropical environments with frequent storms since the durability can outlast surges caused by power outages. The Turbo Cooling feature on the device can cool down a room in under thirty minutes.
The device also features a programmable sleep mode that turns off the air conditioning unit while adjusting the fan to create a steady temperature. The Innovair Quantum Inverter Mini Split is also fairly self-sufficient.
It can perform self-diagnostic tests and report the errors to you. It can also auto clean which prevents a buildup of bacteria from forming mold on the filter.
The outdoor unit that comes with the split is moisture-resistant so you don't need to worry about it getting rusted. This feature is ideal for rainy climates, like wet season in the tropics.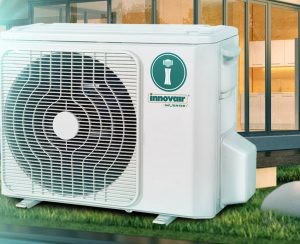 Innovair Quantum Inverter Mini-Split Technical Details
The Innovair Quantum Inverter Mini-Split comes with a three-meter copper kit and interconnecting cable. You can control it with a wireless LCD remote controller.
The condensing unit comes with a plastic cover for the valves. The air conditioning unit features an eco-friendly R410a refrigerant.
The Innovair Quantum Inverter Mini-Split comes with coated electronics and gold fin condensers to improve the durability of the parts.
It offers a power level of 208 – 230 volts and a capacity ranging between 9,000 to 24,000 BTU depending on the model you purchase.
The smallest model measures out to be 32-inch x 10 ½ inch x 8½ inch. The largest model measures out to be 42 ¾ inch x 12½ inch x 9¼ inch.
How to Clean the Front of The Innovair Quantum Inverter Mini Split
Before you start cleaning the front of the Innovair Quantum Inverter Mini-Split, make sure that you turn your power off. Grab the bottom of the front panel and pull outward. It should come undone.
If the panel is very dirty, then use a soft, wet towel and a dry rag. Otherwise, you can simply use a dry rag to wipe away the dirt. Never use any harsh cleaning agents and never get any water on the unit itself.
To put the panel back in place on the unit attach the top part of it to the top of the unit and press down. It should click back into place.
How to Clean The Air Filter On The Innovair Quantum Inverter Mini Split
Before you start removing the air filter make sure you turn on the air conditioner and cut the power. To remove the filter first open the front panel. Press down gently on the handle of the air filter.
Once you do this you can slide the unit out. Wash it down with a mixture of dish soap and warm water. Then leave it in the shade so it can air dry — sun may damage the filter.
After the air filter dries you can put it back into the unit. You should clean your filter every 100 hours of use — more frequently if you live in a particularly dusty environment.
If You Need Any Help With Your HVAC System, Then Call The Air Conditioning Depot
The Innovair Quantum Inverter Mini Split is just one of the many products that The Air Conditioning Depot offers. The HVAC services offered by our company go beyond a simple purchase.
We provide consulting services so you get the product that works best for your specific situation. The qualified technicians all have over fifteen years of experience and can assist with a wide variety of repairs.
One of the best parts of the Air Conditioning Depot is the extensive selection of replacement parts. So, if you're AC unit needs a new specific part, then we can help.
Whether you need an entirely new product or help repairing your old model, the Air Conditioning Depot can help out. Contact us today by following this link here.